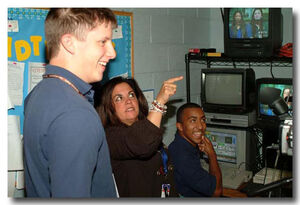 Griffin TV (formerly known as MDTV, or Media Arts) is a club that makes productions in the Griffin TV studio, next to the 400's entrance to the Quad. Their morning show began in Fall 2003 and has continued, albeit with a constantly-changing lineup, ever since. Griffin TV makes announcements in the morning (just after prayers) and in the afternoon (just after Flex), as well as occasionally at other times. The media arts classes, as well as club members, have been creating videos and live segments since 2003. The club's moderator is Mrs. JoAnn D'Anton.
Common segments
Edit
Every morning and afternoon show begins with a prayer read aloud. Words to the prayer display on screen so the school body can follow along. The Pledge of Allegiance is recited afterwards, only in the morning.
Before each show, directly following prayer or the Pledge of Allegiance, a student-produced video is played. This video, intended to excite the school for the broadcast and the upcoming day, is usually a music video starring students and teachers. These show-opening videos are referred to "intros".
Most announcements are made by two on-screen anchors in a virtual room, referred to as "the studio".
Sports announcements are made during the afternoon show by recurring upperclassman personalities. This segment has gone through many name changes, such as The Sports Shack (2003-2004), Griffin Game Time (2007-2008), SportsDesk (2008-2013) and Sports Corner (2014-present).
Notable productions
Edit
"Griffin Game Time" (winter 2007-2008)
"Drive Drive Drive, Stay Alive" (runner-up at the 2008 Holiday Holla competition)
"American Horror Story: Learning Commons" (2015 Halloween special)
Spawned catchphrases
Edit
"Now back to the studio."

Said by announcers to transition from one segment (i.e., SportsDesk) back to the main set.

"From all of us here at MDTV, have a great day, Griffins!"

Sendoff at the end of a show. When MDTV was renamed, either "Griffin TV" or "Donovan Studios" is said in its place.

"B-South!"

Catchphrase of SportsDesk announcers when Monsignor Donovan competed against other Toms River-area schools for the B-South region title.

"Teachers, please turn your TVs on to Channel 3."

Before each show, this is announced to alert teachers to tune into Griffin TV.

"Heck yeah I do!"

Said in an ironical yet enthusiastic inflection, this phrase was used repeatedly in commercials and grew in popularity around the school.